On the console, the players have adjusted the industrial robots into operational experts who can handle various complicated processes through meticulous thinking and fine programming. Under the console, the industrial robots have finished blowing marshmallows, sketching portraits, playing chess and so on. "Great life." The reporter saw this scene at the scene of the 2016 "Artisan Star" Skill Contest - "Lian Shuo Cup" Industrial Robot Design and Management Professional Skills Competition, which made all the audiences amazed.

The reporter saw on the scene that industrial robots with 3D vision sensors can accurately identify, screen and sort in a pile of messy materials. This and the traditional robot can only assemble the materials with the neatly arranged materials, which requires the perfect integration of programming, stereo vision and process control.

The cooperative robot breaks the barrier that the robot operation and the worker operation cannot cooperate in the traditional operation process. Not only can the power and speed of the operation be changed according to the distance of the operator, but also the perfect cooperation with the manual to complete the higher precision. The sharp operation task; while the AGV (Automatic Transfer Robot) type robot can realize the automatic handling and transfer function of the material through flexible movement, realize the unmanned operation of the automated factory.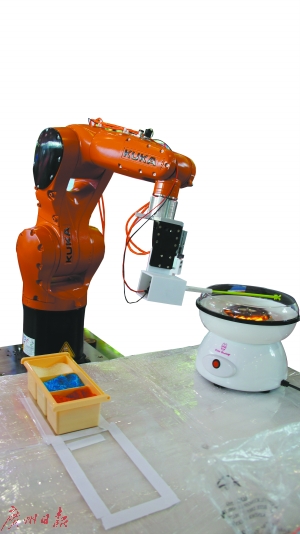 Robot making marshmallow

The relevant person in charge of the organizing committee introduced that the process of industrial robots completing various complicated processes is actually a process from manual teaching to automated presentation. To make the robot work obediently, it can only be achieved after the operator has carefully programmed and accurately demonstrated it. The level of intelligence of industrial robots depends entirely on the precision and precision of the manual setting procedures. It requires the operator to have deep subject knowledge in the disciplines of mechanics, electronics and computer software, and the ability to integrate interdisciplinary skills.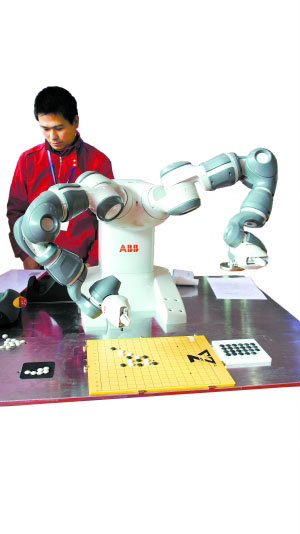 Robot under Go

Contest highlights

The total prize money of the contest exceeds 300,000 yuan.

The contest was hosted by Shenzhen Human Resources and Social Security Bureau and hosted by Shenzhen Lianshuo Robot Vocational Training Center. It is reported that the total prize money of this competition exceeds 300,000 yuan, creating the most in the country. The competition set up multiple rewards, including cash rewards and skill honors. Except for the "Artisan Star", the players who won the first place in the individual group of the employee group, regardless of the employee group or the student group, won the top six players. All of them will receive the Industrial Robot Special Vocational Ability Certificate issued by Shenzhen Human Resources and Social Security Bureau. If the conditions meet certain conditions, the Municipal Human Resources and Social Security Bureau will be recognized as "Shenzhen Technical Experts". Those who have obtained the above honors may also apply. Shenzhen "skilled elite" was selected and received a grant of up to 200,000 yuan.

It is understood that there are many robot brands participating in this competition, and nearly 20 domestic and foreign mainstream robot manufacturers led by the four major families of international industrial robots participated.

For the first time, the competition introduced robotic body manufacturers. The manufacturers not only provide equipment, but also provide innovative ideas and on-site technical guidance to participate in team competitions. The team competition mode of the competition was the first in China: the industrial robot manufacturers, system integrators and universities jointly participated in the competition, and jointly created and innovated, creating a new mode of competition for the China Industrial Robot Competition.

According to the relevant person in charge of the organizing committee, at present, most of the domestic robot competitions only send students to participate in the competition, with the theme of interest and entertainment; a few skill competitions with the theme of industrial robot technology application are sponsored by a certain company, and a single designation As a competition equipment, the brand robot is fixed. The topics and entries of the robot competition competition are derived from the practical application of the enterprise. They are highly practical and innovative. They also show the highest level of industrial robots currently applied, emphasizing originality and innovation.


Features of Nomex Kevlar Specail Flame Resistant Braided Sleeve For Cable Protection

long-term working temperature: -40 ° C -360 ° C

This braided expandable sleeving is lightweight, flexible and non-flammable, it will perform without deterioration in the most diverse and demanding environments.

Nomex braided sleeving is oil and water repellent and also offers excellent resistance to gamma and x-rays.

Nomex is designed for the protection of wires and cable bundles against flame, high temperatures and mechanical abrasion. It is used on a variety of applications in the military, railway, marine, aeronautical and electrical equipment industries.

1: 3 expansion ratio
• Thin Wall
• Lightweight
• Self-extinguishing
• Excellent abrasion protection




With a tensile strength of 90,000 psi and can withstand temperatures up to 700°F, the Nomex Braided Sleeving is known for its high flame resistance. Because of the smooth and soft material, Nomex is used to make fire resistant protective gear for individuals that work in extreme heat conditions.

Although the woven material is docile, this braided sleeving resists most solvents, engineering chemicals, gasoline, most acids and bases. Installation over long cable runs are made easy because of the smooth braid pattern which allows cables to just slide through the non-slit braided sleeving.













Heat Resistant Braided Sleeve,Flame Retardant Cable Sleeve ,Kevlar Cable Sleeve,Kevlar Wire Sleeve For Cable

Shenzhen Huiyunhai Tech.Co.,Ltd , https://www.hyhbraidedsleeve.com