The domestic LED street lamp manufacturer He Xi Energy, the successful case of LED street lamps installed in Hsinchu City, in addition to the mainland manufacturers came to observe the recent days, the word-of-mouth continued to ferment in the country, causing domestic local governments to pay attention.

Recently, Miaoli County Chief Liu Zhenghong led a team to inspect the practical experience of Hsinchu City to inspect Hsinchu City to replace LED street lights, and communicated with Hsinchu City Works Bureau on the issues of efficiency evaluation, maintenance and contracting manufacturers after street lamp modification, and hoped to succeed with Hsinchu. The actual performance case led to the replacement of the LED road in Miaoli County.

It is understood that Hexi Energy assisted the Hsinchu City Government in modifying LED street lights. Since the end of 1998, the Zhushi Municipal Government has started to receive the central subsidy. A total of 14 modified 609 LED street lights are as follows: Zhongzheng Road, Zhongshan Road, Jinhua Street, Minghu Road, South Menjie Street, Linsen Road, Zhonghua Road, Nanda Road, Freeway Road, Ciyun Road, Gongdao 5th Road, Xuefu Road, Heping Road, and Dongda Viaduct were all completed at the beginning of this year and accepted at the beginning of this month.

According to the report of Zeng Jiawen, the chief of the civil engineering department of the Zhushi Municipal Engineering Office, it is estimated that the annual energy saving will be 244,513 kWh, the reduction of carbon dioxide emissions will be 151,500 tons, and the electricity cost will be 533,360 yuan. Only the maintenance and repair part should be carefully observed. Liu County Chief also mentioned that in the past, the LED streetlight test streetlight installed by the Miaoli County Government had caused problems, prompting the government to handle the LED standard carefully, so it came to learn from it. It is hoped that the Miaoli County Government will give some reference through pragmatic cases.

Lin Zhenfeng, general manager of streetlights supplier Hexi Energy, said that at present, Hsinchu City has installed 609 LED street lights, reducing power consumption from 280W to 120W, saving nearly 65% ​​of electricity, equivalent to 30 green trees.

However, at present, the government is in a conservative state for the construction of LED street lamps. It is expected that the government will be more open, achieve the goal of cooperation between industry and university, and drive the development of the LED industry and energy conservation and carbon reduction.

1. The preformed Strain Clamp is used to connect terminal support, tension support, splice support and support of angle greater than 25°. 2. Users according to the fiber cable diameter, RTS or span selection suitable the aluminium Coated Steel Preformed Strain Clamp . 3. The Preformed Dead End Clamp for ADSS includes: Inner preformed armor rods, outer tension preformed rods, a Thimble Clevis, a clevis, two anchor shackles.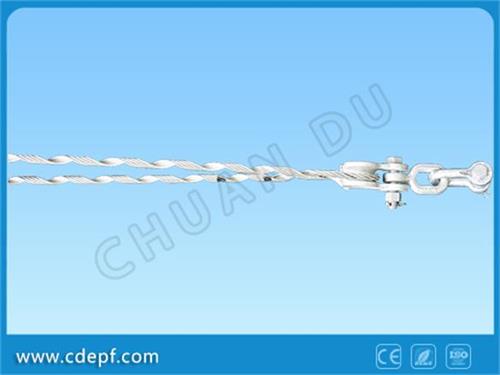 Preformed Dead End Clamp

Preformed Dead End Clamp, Preformed Dead End Tension Clamp, High Strength Preformed Dead End Tension Clamp,Preformed Guy Grip Strain Clamp, Preformed Guy Grip Dead End Clamp

Jiangsu Chuandu Electrical Technology Co.,Ltd. , http://www.cdepf.com