Model NO.: FZ-501

Certification: CCC, CE, ISO: 9001, Ohsas14001

Customized: Customized

Condition: New

Place of Origin: Zhejiang, Wenzhou, China

Type: Desk Socket

Rated Current: 10~25A

Voltage: 110~240V

Current Type: AC

Frequency: 50Hz~60Hz

Available Modules: Type 45

Interface Size: 3 Modules

Company Certificate: ISO(9001, 14001), Ohsas18001

Producet Certificate: Ce by TUV, CCC, RoHS

Trademark: Safewire or OEM brand

Transport Package: Inner Packing Box Outer Exporting Carton

Origin: China

HS Code: 8536690000

Quick Details
| | | |
| --- | --- | --- |
| Serial No. | Parameter | Description |
| 1 | Panel Material | Zinc alloy |
| 2 | Bottom box Material | Enginning PC |
| 3 | Socket material | Phosphor copper |
| 4 | Panel Dimension(mm) | Ø110 |
| 5 | Cutout(mm) | Ø102 |
| 6 | Base box dimension | Ø110*45 |
| 7 | Capacity of modules /Interface size | 3 ways  128 type(36*36mm)modules |
| 8 | Available Structure  | Round/ Without coverplate/Concealed installation |
| 9 | IP Rating | 22Â  |
| 10 | Available modules | Type 45 |
Application:

Floor grommets are used as a conduit to interconnect the sub floor to the office floor. Cables travel through the floor grommet to the desk, with smaller units (46mm to 102mm) in common use for the desktop. Adjustable cable openings, grey flame retardant ABS or polycarbonate construction. All floor cable grommets feature a removable 'lid', meaning that a 13A UK plug or 16A Schuko plug can easily fit through all grommets.

 
Office and education
Industry and Engineering
Presentation and retail;
Orientation and safety;
Transit areas and parking;
Hotels, hospitality and wellness;
Health, sport and leisure;
Art and culture;
Customization of modular:
Switches
Protection(fused/thermal switch)
Power outlets;
Data jack;
USB charger;
Feature:(1)

Grommets are sleeves which are installed into raised floor panels. They protect cables from being cut by the sharp edges created after cutting into a panel for wire access. In addition, they protect employee fingers from sharp panel edges. 

Grommets are made from injected molded plastic resins designed for long-lasting wear and are resistant to chipping or breakage. They have a snap-in swivel lid that accommodates cables. 

Remember a hole saw is required to cut the opening in a floor panel when using circular grommets. 

 
Easy installation: Round shape to die out hole and save labor cost.
More durable: The material of socket product body is from high quality zinc alloy by process of pressure casting as integration design. It be high intensity so more durable.
More anti corrosion under heavy humidity environment: Surface of product is processed by power painting .
More safety :Â Complete closed plastic bottom case and with conduit of cord .
(2)Â Advantages:

1.High quality socket receptacle:Using elastic phosphor copper avoids playing spark plug and plug set to bit dead ,ensure high conductivity and more life of pulling and plugging over 15000 times.PC+ABS(1.Modules fireproof :Â 850 degree CÂ temp.;

2.Modules don't distortion under 102 degree CÂ temp.; 3.Stand under 15 degree CÂ temp) ;Oxygen Insulation &Â Fire resistance in accordance with UL94 international standard.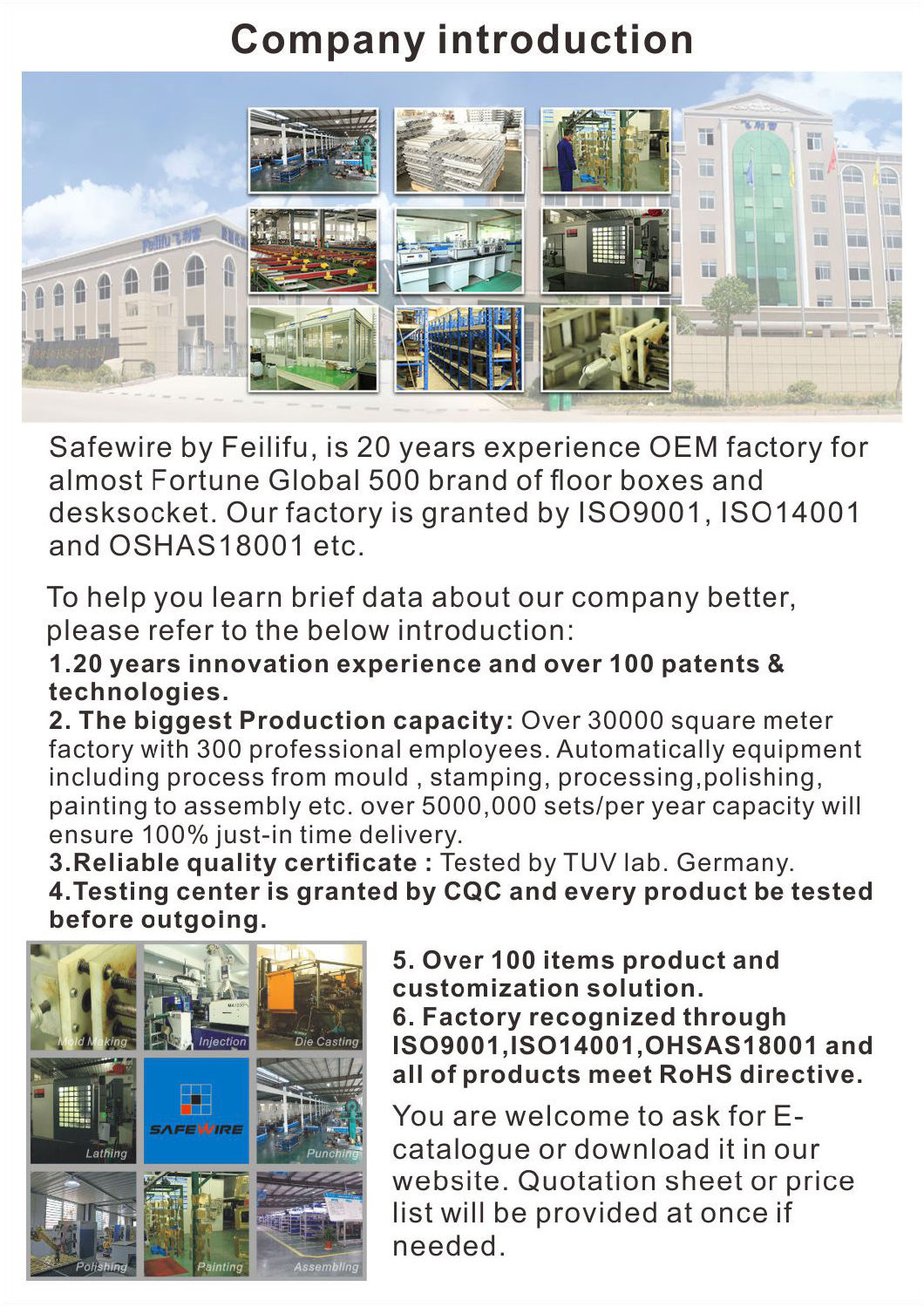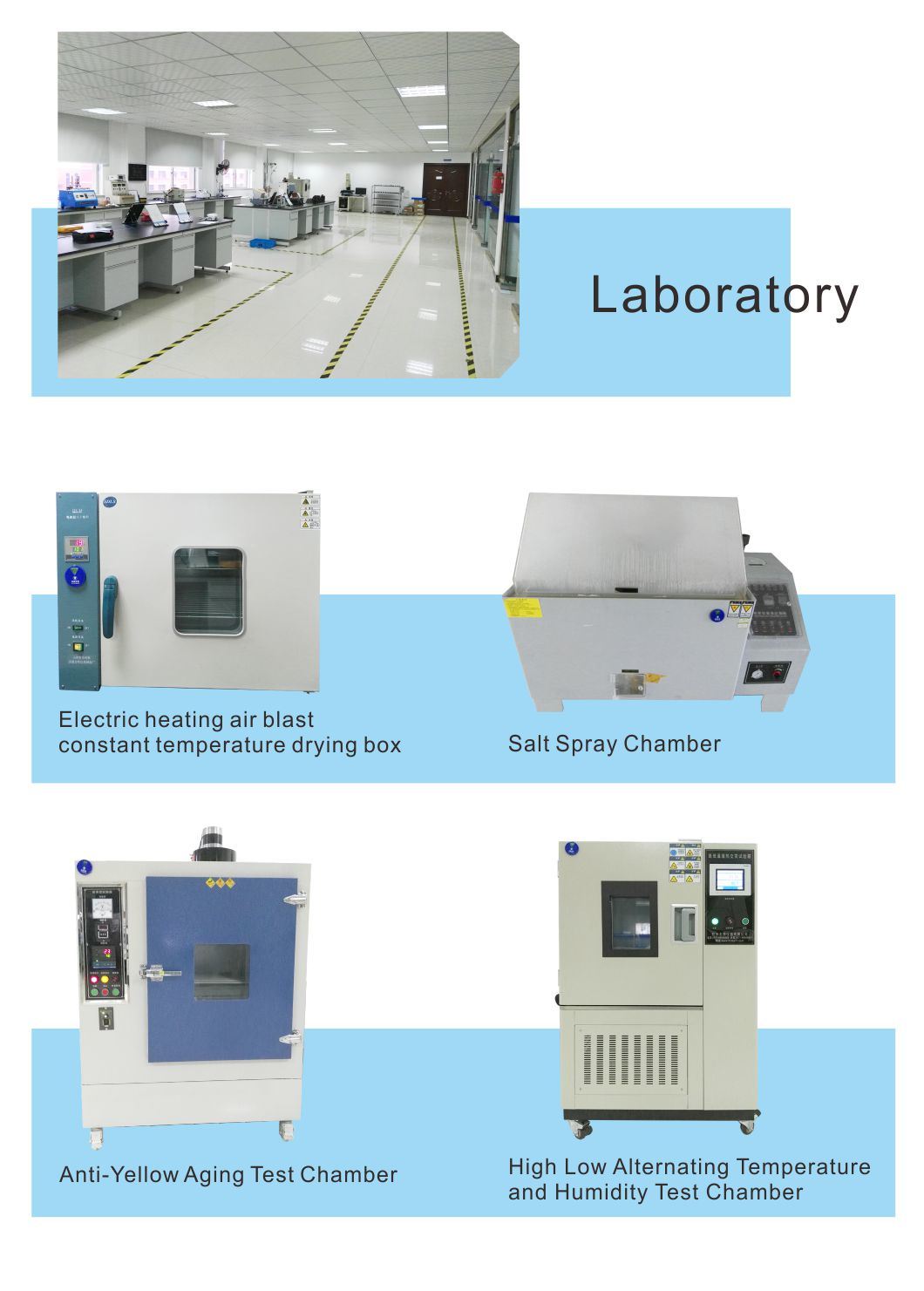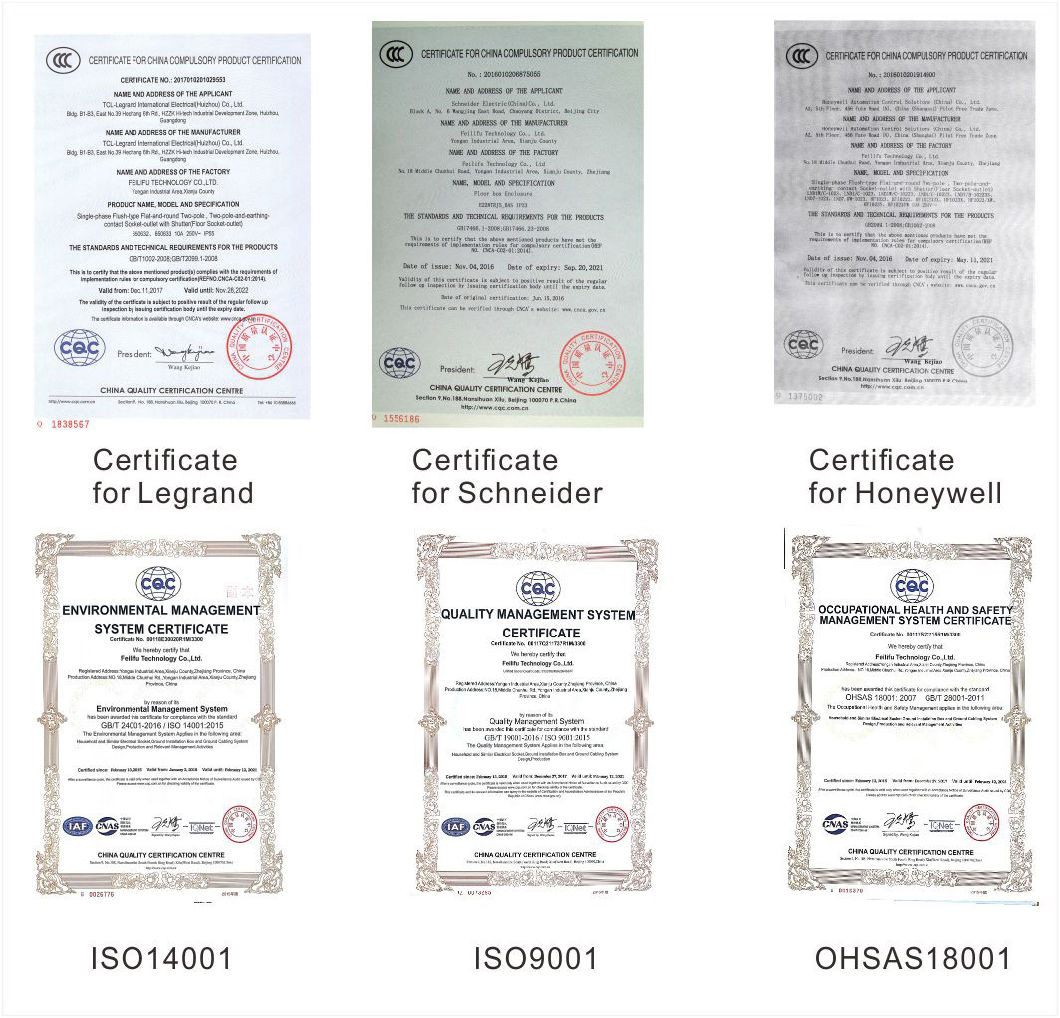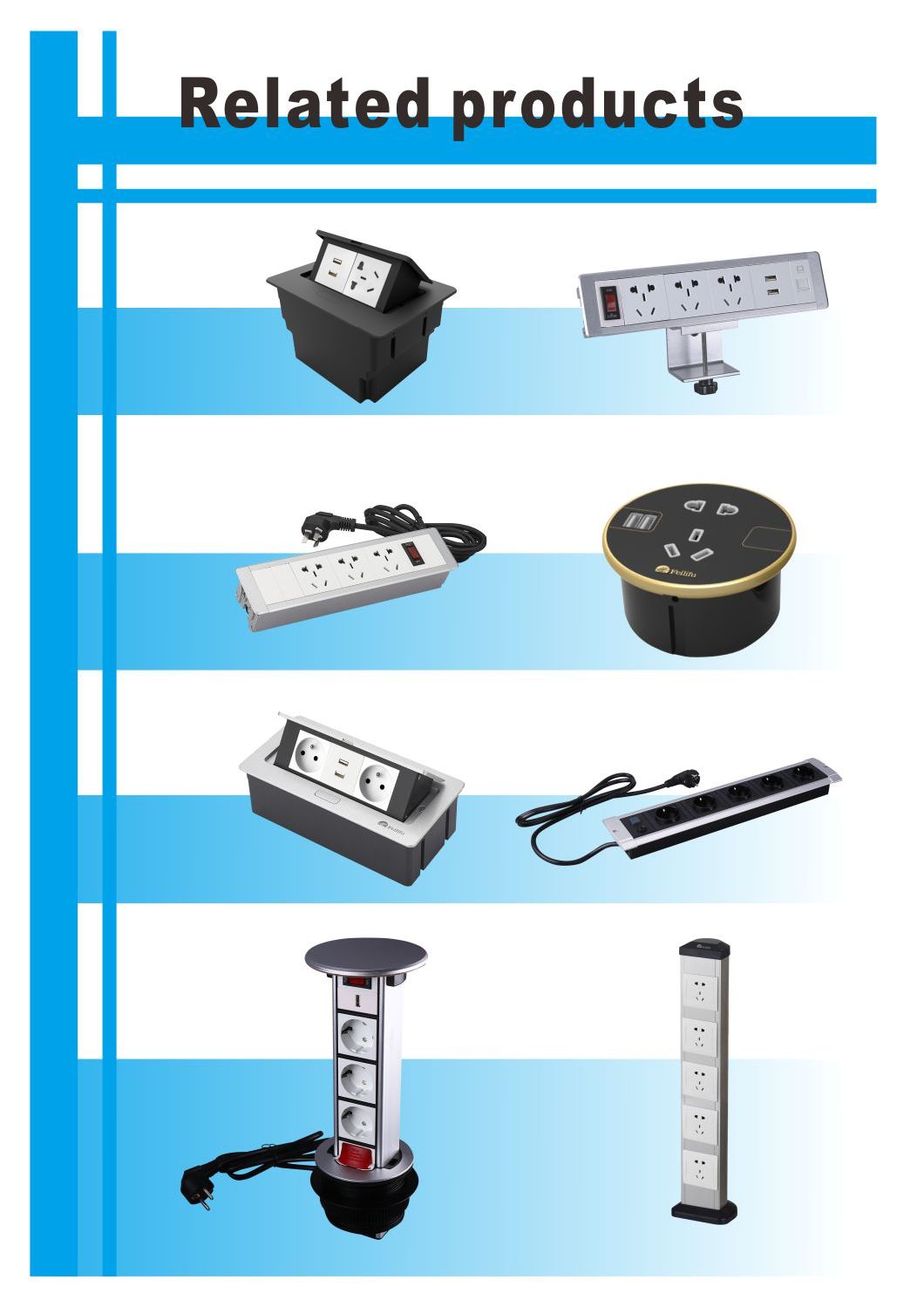 FAQ:

Q:Do you have literature we can have?
A:Of course, we can post out a brochure or you can download it along with data sheets direct from here
Q:Do you manufacture all products yourself?
A:We manufacture all of our core product ranges ourselves as a proud best China manufacturer. A small number of our ancillary products are brought in from trusted partners also mainly China based.!
Q:Do all of your products comply to National standards?
A:Our products meet China National standard ,IEC standard and the relevant national standards such as SASO
Q:What lead times do you offer?
A: Lead time is dependent on many factors including type of unit and quantity required. We stock an extensive range of core product in a number of sizes that can be available 14 working days.Lead time indications are stated on quotations, but by all means feel free to ask for up to date information.
Q:Can I request a specific delivery time/day?
A:Safewire will always endeavour to meet our customer's requirements and hit special delivery times every day
Q:Can I request a technical specification?
A:Please contact us to request a technical specification or product certification.                      
Q:How long is the warranty on your products?
A:There is a 12 month warranty from date of delivery.  In the event of any failure, items must be returned to Safewire for full investigation.    
Q:What is your products installation?
A:There are various methods of fixing for each unit - a member of the quotes team can talk you through the options or you can view them on the website.                                                  
Q:Can you send me a price list?
A:As there are so many variations of specification possible for each unit - We can send you brochure or you can download it from the website.  Please contact the Quotes Team direct for pricing.          
Q:How much will it cost?
A:This will vary on the unit and the specification of the unit, please either call a member of the quotes team or complete the online form.       
Q:Can I request a sales visit or a visit to your factory?
A:Please contact us to request a visit from us or to our Head Office address: No.152 Xinggua Road, Xinggua industry zone, Liushi town, Yueqing,  Wenzhou,China ,325604;                              
Q:Can I request a sample from Safewire?
A:Safewire are happy to supply sample to our partners, please contact us directly to discuss your request.                                  
Q:Can IÂ request sales and marketing material?
A:Safewire are continually investing in their sales and marketing material, please contact us directly to discuss your requirements.              
Q:How long make a sample?
A:Â Within 7Â working days upon receipt of confirmed order and payment for standard product. Customization product order should be confirmed between us.